Read this page also in:
Our objective is to discover innovative stories of people working in the primary sector, and to better understand the factors that led these people and their organizations to succeed. We use these stories to analyze how digital innovation is changing agricultural practices.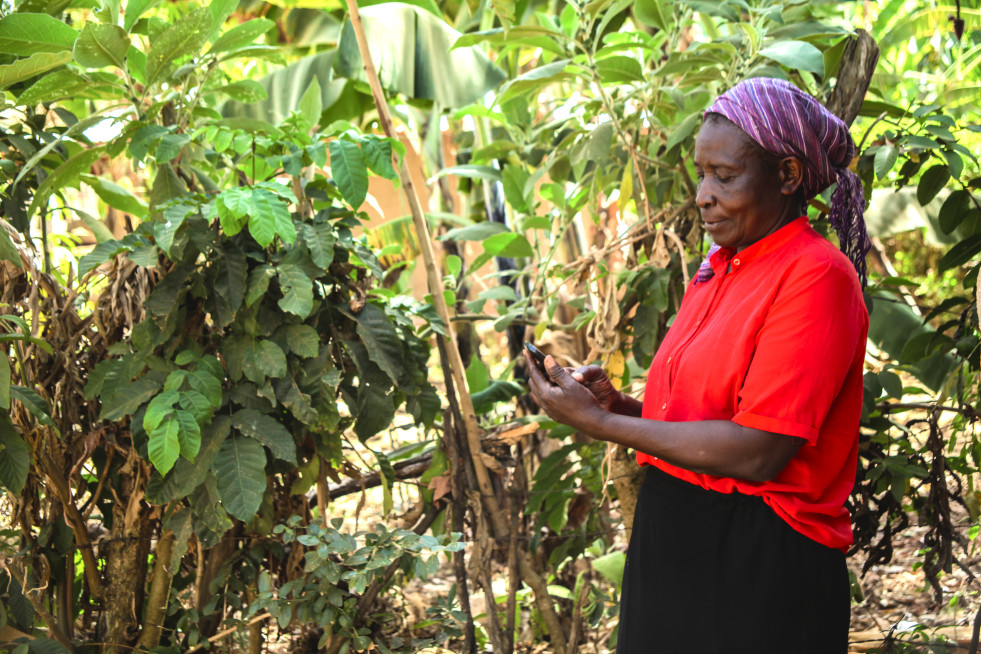 Our work supports, encourages, and facilitates innovation in the agricultural sector. We seek out the people using technology to change the primary sector, analyze the factors that lead these people and their organizations to succeed, and share their stories with the public. We tell the story of how digital innovation is transforming agriculture, and transforming Africa.
We've also created an interactive tool and online network of people working in the agricultural sector. Through this network, and through the stories, videos, and reports that we publish, youth in Africa and beyond can learn about the value of the agricultural sector and the opportunities it presents.
A SOLUTIONS JOURNALISM PROJECT
The Agritools project is co-funded by the Innovation Grant Programme in Development Reporting (IDR), with the support of the Bill and Melinda Gates Foundation through the European Journalism Centre (EJC).
Launched in 2015, the Agritools project seeks to better understand how African entrepreneurs are using ICTs to solve problems facing the primary sector. Specifically, we are interested in young people who are finding alternative ways to impact local growth and development, with the help of cell phones, web platforms, social media and more. To this, we use the techniques of solutions journalism. This approach focuses on exploring successful responses to social problems, and understanding the mechanisms of that success.
Our leading questions are: Which ICT-based models are successfully addressing the problems faced in the primary sector? How are agricultural startups and projects impacting growth and development in the primary sector? What role do ICTs play in increasing young people's interest in the agricultural sector? Can ICTs create new employment opportunities in agriculture?
We want our stories to have a positive impact on the lives of people both locally and globally. Therefore, we've established partnerships with both European and African media outlets, creating synergy among journalists from different countries.
AN INTERACTIVE LEARNING PLATFORM
The Agritools platform offers three tools:
A crowd-sourced storytelling space where we collect and publish stories from the field, giving voice to the African ICT for agriculture initiatives
An interactive map where all stories will be published and geo-located
A Youtube channel where we broadcast short video documentaries with stories and interviews from the Netherlands, Italy, Senegal, Kenya, Uganda, and Ghana
A VIRTUAL HUB
Young entrepreneurs, startups, organizations, and business incubators across the continent are the protagonists of a revolutionary movement that is transforming the agricultural sector. Working together, we can create a new model of sustainable agricultural development for our future.
Agritools is a virtual hub where people can exchange information and get in touch with other ICT4Ag practitioners working in the field.
We've opened several Facebook groups where organizations and youth involved in the sector can exchange information, discuss how ICTs and agriculture intersect, and work together to solve problems in the field.
Discover how to be part of the community! Write us
The communicati
OUR OBJECTIVES
Educate, inspire, and encourage youth to contribute to the growth of the primary sector through ICT innovation
Give a voice to local people, offering them a chance to share their insight and knowledge to both local and global audiences
Raise awareness about contemporary Africa, breaking down the stereotypes often broadcast on international media outlets
TEAM
Elisabetta Demartis

Elisabetta Demartis is a freelance journalist and the founder of Agritools. She writes about ICT for development and agriculture, with a particular focus on Africa, and her work has been published in several international media outlets. She is also a development practitioner and project manager, passionate about agriculture and social entreprise and working on innovative initiatives between Europe and Africa.

Winnie Kamau

Winnie Kamau is a freelance data journalist based in Kenya. She is a founding member of the Association of Freelance Journalists and a regional African leader for the Center of International Media Ethics (CIME). She is also an editor at African Voices, based in Italy, and a Media Relations consultant.

Sandro Bozzolo

Sandro Bozzolo is a filmmaker and PhD candidate in 'Migrations and Intercultural Processes' at the University of Genova. He has directed the documentaries 'Amazonia 2.0', winner of EtnoFilmFest 2012 and 'Enchikunye', awarded at Cinemambiente 2015 and Mountain Film Fest of Autrans. He wrote the books 'Un sindaco fuori del comune – Storia di Antanas Mockus' and 'Ilmurràn-Maasai in the Alps'.

Djiby Dem

Djiby Dem is a freelance journalist and a web activist based in Senegal. He works for 'Le Quotidien', a Senegalese media outlet and he is the founder of the website laviesenegalaise.com. He is also a blogger and a passionate about web 2.0, ICTs and communication for development.

Mikaïla Issa

Mikaïla Issa is a freelance writer, digital journalist, social media strategist and communication for development specialist. Having more than 7 years of extensive experience working with local, regional and international media across Africa and Europe, he has gained an in-depth knowledge of journalistic, online media platforms and communications practices for agriculture to achieve high standards in corporate communication and social media activities for international organizations and journalism.
Collaborators
Giovanni Quattrocolo, web designer
Asmaa Kherrati, communication manager
Alessio Antonini, map developer
Angelica Calabrese, content editor and translation
Ben O'Bright, virtual hub coordinator
COMMUNICATION PARTNER
The communication partners will help Agritools diffuse the stories and reports and engage youth in agriculture.
MEDIA PARTNER
CONTACT
Do you have any suggestions or ideas to share with us? Do you want to collaborate with the Agritools team? Are we missing an important issue related to the ICT4Ag sector?
Please contact us!